In autumn of 1987, I was twelve years old, had just gotten my braces off, and had entered the horrifying world of junior high. I won't discuss, here, all the ways our culture disempowers women and enables men's bad behavior, all the while giving young people absolutely no clue how to understand adulthood (unless it involves marketable rebellion). I will say, though, I was told that I had to be pretty, which I was, even though I never saw it. Men did, though, and I was often reminded that, because I was pretty and had big breasts, their behavior (which included stalking, threatening, groping, exposing themselves, masturbating at me, and calling out vulgarities) was just a burden pretty girls had to bear. Once, when I was fourteen, I was at my friend's house and her grandfather hit on me. I felt scared and embarrassed, but he had no qualms with doing it in front of everyone. His parents laughed it off with an "Oh Grandpa!" reply. People were right; that burden was mine to bear: alone.
However, on September 28, 1987, Star Trek: The Next Generation premiered, and my twelve-year-old self was transfixed by Lt. Tasha Yar, Security Chief. I watched her bark orders and flip big men as if they were rag dolls. I loved how she stood up straight and strong on the bridge, not folded into herself as women are often taught to stand, as to show that we are diminutive and never in the way of men. Lt. Yar had grown up orphaned and alone and had experienced constant threat of rape gangs. I don't know whether or not the men who harassed me had also intended to rape me, but I always felt on edge around them and physically threatened on my walk home from school.
Last autumn, I decided that my next book of poems will all be about Star Trek: The Next Generation. I have been having so much fun writing new poems about characters and episodes, and I have also been "watching around" the series on Netflix. The latter is nothing unusual for me. In fact, I often spend my weekday lunch breaks watching part of an episode. However, since I'm writing the book, I thought I'd revisit season one, which I never do. Season one was not the most well-written of the series. Nevertheless, I started with "Skin of Evil," the episode where Tasha Yar dies. I'm not ashamed to admit that, after thirty years, I still got a little teary eyed at her funeral. (Side note: Tasha bleeds like a Kandinsky painting.)
Next, I watched the first episode of Season one. Here are my general observations:
Damn, Troi's dress was short. When she sits down, it looks like she's wearing a shirt and underwear to work. Don't get me wrong; she's got a rockin' shape. She just looked more comfortable, in later episodes, when she got to wear pants.
God, I love Picard.
God, I love Q. Have you heard the theory that Q is really Picard's shadow side?
Worf eventually grew into his growl. Love him.
Awww…young, bright-eyed Riker!
What really struck me, though, was realizing that I have been remembering Tasha Yar very differently, all these years. As a kid in the 80s, I had viewed her as strong and in charge. I realized after re-watching the series premiere, however, that even though she throws people around and defends the crew, she's really whiney about it. She cries, or is near tears, several times during the episode. She also flies off the handle and orates a desperate speech, despite the captain's direct order to stop and the presence of trigger-happy militants. I'll be honest, if I were the captain, I would not feel comfortable with her in charge of security. Picard acts fatherly and gentle with her, which at the time, I thought was sweet of him. Perhaps teaching college for the past eighteen years has hardened me a bit because I can tell you that, if I had been the captain, I would have told her to get her shit together. For heaven's sake, one of her tearful outbursts gets her literally frozen solid, which in turn, makes Troi cry, too.
Well, it was 1987, and Tasha Yar was still stronger than most females on television. Also, I'm sure my twelve-year-old lens made Tasha's mood swings appear not as melodramatic as I see them today. I guess I have been remembering Yar more like Gwendoline Christie's Brienne of Tarth in Game of Thrones, who is strong, tough, committed, smart, and loyal. She's allowed feelings, but as a protector, she controls them and performs her duties first.
I think that our cultural view of strength is shifting, slowly. In the 90s, I admired Special Agent Scully's strength, intelligence, and rationality, and although I did fall for the whole potential Scully/Mulder romance, I also wanted her just to find someone who treated her right.
Scully had to bottle her emotions, most of the time. In "Never Again," she goes on a date with a man who tries to kill her that night. When she returns from the hospital, Mulder slut-shames her. Funny, I don't remember Mulder having to pay, even when he slept with other women.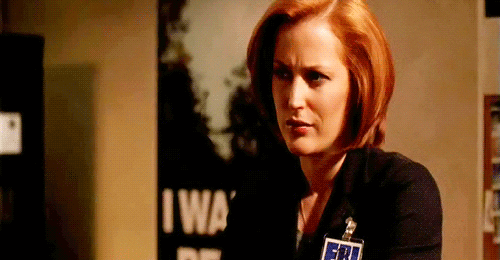 I can't even bear to watch the currently airing eleventh season of The X-Files. It's too rapey. I'm tired of Scully being the object of dark, misogynist sci-fi. I love her too much.
Recently, I saw Black Panther, which I highly recommend. One of the many reasons that I liked it so much was because the strong women characters needed no explanation. As much as I adored Wonder Woman, at this point, I find it tiresome when scenes revolve around witty banter that explain how strange and humorous it is that a woman is strong. Also, actual women cannot be strong like Wonder Woman because we are just regular mortals.
In Black Panther, the women found strength through discipline, wisdom, and intelligence. Some women were more physically strong; others were more intellectual. The old women exuded confidence from experience that married the head with the heart. Women's strength in Black Panther is obvious and presented as accepted fact.
Oh, and their armor makes sense.
Although Wonder Woman's costume is skimpy in both Wonder Woman and Justice League, notice how her sister Amazons get dressed in Justice League. At least Wonder Woman's costume protected her internal organs (although not much else).
What does any of this have to do with a poetry blog? Well, for this month's post, I want to think about poetry that explores a shift in perspective. A few months ago, I wrote about Carolyn Kizer's poem, "Bitch," that describes an interaction between a woman and her ex, and the change in dynamics. Here are three poems that discuss shifting or evolving perspectives. If you, dear reader, can remember any poems with a similar theme, I encourage you to post them in the comments below. The three I've chosen to include, here, all recall parent/child relations, but you may find poems that embody different themes.
Photographs Of My Father
On my walls there are three
photographs of my father.
In one he is a young recruit
standing at ease,
third from the left
with his platoon.
In another he has rank
on his cap—a formal
pose in a studio,
intended for his mother.
In the last, a blowup
from my mother's wallet
taken by a machine
in a foreign port, he is
a melancholy petty officer
in navy blues. Hazy
like a ghost sighting,
creased form her handling,
it is my favorite.
These are the survivors
from a day of fury.  One morning
in my childhood, on his way
out to sea, he had sat
alone in the living room,
and without hurry, with care,
cut himself out of our family.
Book after book.
I watched him work
from my room, knowing
his actions were prelude
or aftermath to family strife.
My mother in the kitchen
holding her coffee cup
with both hands, also waited.
On the floor
my father's image lay
like peelings from an apple.
In his hands the scissors glinted
at the eye and snapped
like a live thing.
Nothing more. Just picture albums
shameful as a vandalized church,
never seen by me again. And years
after his death, my need to find
his face revealed in innocence,
unguarded, as I never knew it.
This vulnerable young man, this face
that fills me with grief and longing.
I am trying to believe in this boy.
by Judith Ortiz Cofer
from Reaching for the Mainland & Selected New Poems
Bilingual Press/Editorial Bilingue, 1995
Macaroni & Cheese
One day you may be asked, "How
was it that God brought forth
being
out of nothing?" Then, "IS
there no difference between them—
nothing, and being?" Outside
a strange slow snow, and a big
black bird hunched
over something in the road. The sky
will be a pale
reflection of itself,
like a woman making dreamy circles
at the center of a dish with a cloth.
Love. Hunger. Other alchemies.
You may be asked, "What
Are my eyes made of? Can
Santa's reindeer be burned by fire? In
heaven, does Jesus eat?"
In the oven, something breathing. Rising. Melting.
Shifting
Shape and sweetening
in the heat. Now
You can see that the bird in the street
is wrestling something bloody
out of a carcass, trying
to expose its heart. You
put the dish beside the cloth, and say,
"Darling, I don't know."
by Laura Kasischke
from Gardening in the Dark
Copper Canyon Press, 2004
You can hear Li-Young Lee read this next poem: https://vimeo.com/36988030
The Gift
To pull the metal splinter from my palm
my father recited a story in a low voice.
I watched his lovely face and not the blade.
Before the story ended, he'd removed
the iron sliver I thought I'd die from.
I can't remember the tale,
but hear his voice still, a well
of dark water, a prayer.
And I recall his hands,
two measures of tenderness
he laid against my face,
the flames of discipline
he raised above my head.
Had you entered that afternoon
you would have thought you saw a man
planting something in a boy's palm,
a silver tear, a tiny flame.
Had you followed that boy
you would have arrived here,
where I bend over my wife's right hand.
Look how I shave her thumbnail down
so carefully she feels no pain.
Watch as I lift the splinter out.
I was seven when my father
took my hand like this,
and I did not hold that shard
between my fingers and think,
Metal that will bury me,
christen it Little Assassin,
Ore Going Deep for My Heart.
And I did not lift up my wound and cry,
Death visited here!
I did what a child does
when he's given something to keep.
I kissed my father.
by Li-Young Lee
from Rose
BOA Editions, Ltd., 1986