Emotions are their own entity. I don't believe that anyone can control them. Sure, if we're "functioning members of society," we've learned to control our reactions to emotions, but as for emotions themselves, one can only accept them, deny them, or distract from them. The latter of which can either further oppress the feelings or ironically provide enough space to accept them. I don't mind riding out grief or anger; I don't even mind the occasional moments of jealousy. However, there are two emotions that I will do practically anything to spit out as quickly as possible: guilt and the need to forgive.
Guilt can be a good tool…sometimes. It can help us make decisions: "Why do I feel guilty about not completing (fill in the blank)? Well then, maybe I should move forward with (fill in the blank)." However, most of the time, guilt is merely the favored tool of manipulators. It works as a quick poison, filling the body with a sick warmth. Often, guilt is used to persuade people (usually women) to forgive those who have harmed them. "But you've forgiven him right? If you haven't, then you're only hurting yourself." That's one way to add salt to a person's wound. Anyway, what does forgiveness even mean, exactly? I've heard many definitions, none of them satisfying enough to mention. Guilting someone into "forgiving"  accomplishes nothing healthy. Usually, it just aggravates the person's bad feelings, by requiring suppression, and perpetuates more guilt by contrasting their actual feelings with the cultural demand that we be "nice girls." Guilt is only healthy if used as a quick and dirty tool. Use it to snake the drain and then forget about it immediately! 
Growing up, I often felt guilty about possessing objects. I worried that I had too many. My mother was a hoarder, and the physical disaster that surrounded me ignited a resistant response: I cleaned to the point of obsession. I recently found an old copy of Slab, which published my creative nonfiction piece "Order," back in 2008. I had forgotten how much pain I had experienced in my 20s, regarding my physical surroundings and drive for perfection. As I read the essay, it felt strange to be reminded of old emotions. I felt as though I were reading about a close friend, rather than myself fifteen years ago. Over time, I have eased up on myself by entertaining the idea that my belongings did not need be in perfect order or in small quantity.
I still have a thing for cleaning and organizing, though. Over winter break, I binge-watched the Netflix show called Tidying Up with Marie Kondo. It's a series that follows Marie Kondo (author of The Life-Changing Magic of Tidying Up: The Japanese Art of Decluttering and Organizing and arguably the most delightful human on planet Earth) as she helps folks reduce clutter and organize. What is unique about Marie Kondo's method is that, instead of feeling guilty about the clutter and focusing on eliminating it, one focuses on keeping only the objects that "spark joy" (or have a practical function). 
I like this attitude toward belongings. Marie Kondo says that you should thank items before you give them away or throw them out. I like that method, too; although, I admit I still sometimes enjoy rage-cleaning, the kind of de-cluttering method that involves interrogation: "What are you still doing in my closet? You remind me an unpleasant time, don't you?" Slams item into garbage bin. After all, I think if we are to believe that items have life in them, then we must admit that some objects are ornery. Yet at other times, it's not the item's fault. For instance, when a perfectly good song reminds you of a failed romance, sometimes, you just have to say goodbye.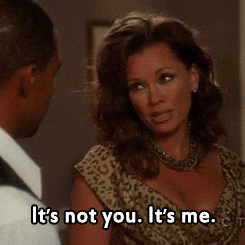 Deep de-cluttering tends to wipe me out, and I believe it's because memories easily weigh me down. I'm never quite sure what to think of memory, either. There's the imprint of the moment, lodged in my brain. Then, there's the frame of mind I was in at the time of the past moment, and my memory of that frame of mind, in my present mind. Just to complicate matters, there's my current frame of mind, remembering the moment and the frame of mind I occupied during the past moment. Adding to these complexities is the fact that people often misremember or conflate moments and even people. I remember (or do I?) hearing a detective on television describe the memory of a crime as a penny, sinking into a body of water. She said that she wants to speak to  witnesses before anyone can "create waves," which influence what ideas attach to the memory, causing it to morph into inaccuracy. 
My wife enjoys the podcast called, Mortified, which features adults reading their teenage journals aloud to an audience. It's funny to hear silly and shallow narratives coming out of the mouths of cognizant 30-somethings. I listened to a couple episodes and decided to dig up my old journals. (I've been keeping them since I was 13.) I was surprised to read, among the obligatory teenage dreaminess and misunderstandings, that I actually had some pretty legitimate and well-thought out concerns about life and family.  
On the other hand, I was leafing through an old photo album recently and saw myself at 21, standing next to a stupid boy that I was completely batty about and whom I had endowed with an unreasonable level of faith (and faithfulness). I felt the urge to swat at the photo, move my old, young self away from that bozo. 
I think the lesson of memory's vagaries is not to worry about the past. Even pleasant memories seem to tug a bit at my energy levels. Almost always, I prefer my current self to my past self anyway, which I suppose is fortunate. Often, I'm either not sure what I remember, or I'm not sure that, if I went back in time and witnessed it all over again, I'd remember it in the same context, and if the context is different than the original memory, doesn't that mean that the memory is different and, ultimately, the  moment itself? 
For today's poem, I have included James Tate's "Long-Term Memory," which I remember him reading, years ago, when he visited Southern Miss!
(Here is a link to him reading the poem at the Key West Literary Seminar.)
And after the poem, one of my favorite Alabama Shakes song, "I Ain't the Same"!
Long-Term Memory
I was sitting in the park feeding pigeons
when a man came over to me and scrutinized my
face right up close. "There's a statue of you
over there," he said. "You should be dead. What
did you do to deserve a statue?" "I've never seen
a statue of me," I said. "There can't be a statue 
of me. I've never done anything to deserve a
statue. And I'm definitely not dead." "Well,
go look for yourself. It's you alright, there's 
no mistaking that," he said. I got up and walked
over where it was. It was me alright. I looked
like I was gazing off into the distance, or the
future, like those statues of pioneers. It didn't 
have my name on it or anything, but it was me.
A lady came up to me and said, "You're looking at
your own statue. Isn't that against the law, or 
something?" "It should be," I said, "but this is
my first offense. Maybe they'll let me off light."
"It's against nature, too," she said, "and bad
manners, I think." "I couldn't agree with you
more," I said. "I'm walking away right now, sorry."
I went back to my bench. The man was sitting there.
"Maybe you're a war hero. Maybe you died in the
war," he said. "Never been a soldier," I said.
"Maybe you founded this town three hundred years
ago," he said. "Well, if I did, I don't remember
it now," I said. "That's a long time ago," he
said, "you coulda forgot." I went back to feeding
the pigeons. Oh, yes, founding the town. It was 
coming back to me now. It was on a Wednesday.
A light rain, my horse slowed…
from James Tate's return to the city of white donkeys
Harper Collins Publisher, 2004