Growing up, the only other people I knew with the name "Shanti" went to my church (which I wrote about in "Christians and Buddhists and Pagans, O My!"). People always pronounced my name correctly there, but everywhere else, it was touch and go. For some reason, many people want to call me "Shanty," which is an actual word that means "poorly built shack." I've always found it strange that someone would assume that's what my parents named me; however, we do live in a country that allowed a teenage boy to legally change his name to "Trout Fishing in America." Meanwhile, in France, the law does not allow anyone to bestow names on children that may result in mockery. For instance, the names "Nutella" and "Strawberry" were nixed in 2015. Go France!
The mispronunciation of my name got more complex, as I got older. Once a man asked my name, and when I replied, "Shanti," he clarified, "Shanita?" 
At a previous job, a co-worker called me a record-breaking number of variations of my name, over the course of several weeks. "Shantaqua," "Shantell," "Chantal," and then, one day, "Shania!" I had grown accustom to responding to any "Shh" sound that came out of this guy's mouth, and so I turned around. He proceeded to ask Shania on a date.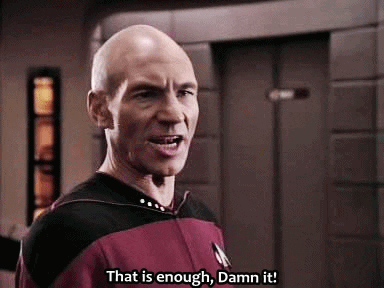 This year, I started working on a book of poems about Star Trek: The Next Generation. I wrote "What's in a Name: Picard Calls Lt. Barclay 'Broccoli,'" (first published in Valley Voices: A Literary Review, V18, N1) after watching the episode "Hollow Pursuits." Lt. Barclay, a nervous, annoying Starfleet officer, secretly nicknamed "Broccoli" by the annoying Wesley Crusher, has no friends and bad holodeck manners. 
On a side note, I don't think anyone should have been allowed to conjure images of people already alive, while on the holodeck. I always found it interesting how STNG managed to thoroughly disinfect holodeck indiscretion plots. No amount of sanitation makes it less creepy to me, though. And to my recollection, only the dudes did it, and I thank the TV gods that holodecks don't exist in other sci-fi shows, like the reboot of Battlestar Galactica, because that would have gotten nnnaaaasssty! 
Anyway, in my poem, I wanted, first, to identify with Lt. Barclay's name issue, by sharing my own struggles with interpretative pronunciations. However, I also wanted to address the creepy way he used the holodeck to fulfill fantasies regarding the ship's crew. In "Hollow Pursuits," Barclay's addiction to his holodeck storylines are further exasperated every time he clashes with Commander Riker or shies away from the attractive Counselor Troi. To make matters worse, after Picard does his darnedest to stop people from disrespecting Barclay, he slips and calls him "Broccoli." 
In the last stanza of my poem, I wanted to focus on the darker aspect of the episode: how he dehumanizes his fellow crew members by rewriting them as flat characters who can never evolve or leave the parameters of his narrative invention. I also wanted to tie that idea to the way women, in our time, are similarly dehumanized to harmful and troubling effect. Women are often first considered sexual objects, but then, if any further dimensions are added to the woman, she soon becomes stereotyped as evil or undeserving, despite any reasonable notion of reality. In the poem, I liked the idea of entwining simple name mistakes with the much bigger problem of removing someone's depth, which leaves them an easy target, and easily subjugated, at least in the mind of the objectifier.   
If you have any good mistaken name stories, anything cool to say about STNG, or anything generally cool to say, please reply in the comments!
To hear the audio version, click here:
What's in a Name: Picard Calls Lt. Barclay "Broccoli"
I tell them my last 
name is pronounced 
"Why-land," as in, why
is it pronounced that way?
But my first name stumps. 
They want to call me 
a broken house, some old
lady by the riverfront. They claim 
that some say it 
pahs-ta, some pass-ta, 
but I say, think 
of your favorite 
Sean or Shawn,
that man or woman 
who held you close, 
told you how clever 
you were the day you fixed
the water heater.
Now, give that person 
a cup of tea. "Shawn-tea."
It's different 
for Broccoli.
Even Picard 
screws that up.
Barclay's nickname,
and creepy holodeck
programs, left us
zipping up our tops
higher than ever,
but I get it. Suspicion 
makes sense until they need you 
on the bridge.
Trust's a virtue until they call you 
"Broccoli." 
But your holodeck fantasies 
were blunt. Deanna's your babe; 
Riker's your bitch.
In my day, a poet named
Lucille Clifton once claimed
it's only a matter
of time before a discussion
about women turns 
to witchcraft. You can see 
it, right? How my clear plans, 
in a world of men, well-lit
streets where all 
red riding hoods make it
safely to grandma's, 
seemed dark to them?